Is there anything sadder than hearing about a dog that has suffered through an abusive upbringing? After all, everyone needs love and this pup has found the love of her life in the form of an adorable toddler. The Spence family adopted Nora, an English Pointer, and there is only one person in the family that has won over the dog's heart. Your heart will absolutely melt at #15 & #4!
20. Abused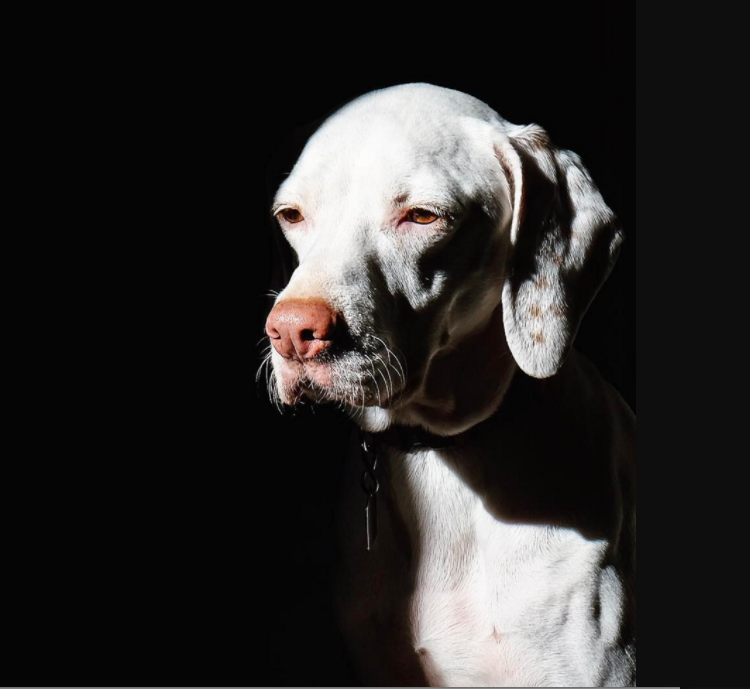 Image: FilterCopy
Check out the adorable Nora, an English Pointer. Her previous owners abused her badly and were absolutely terrible to her. This left Nora with some serious trauma to overcome.
19. Traumatic Beginnings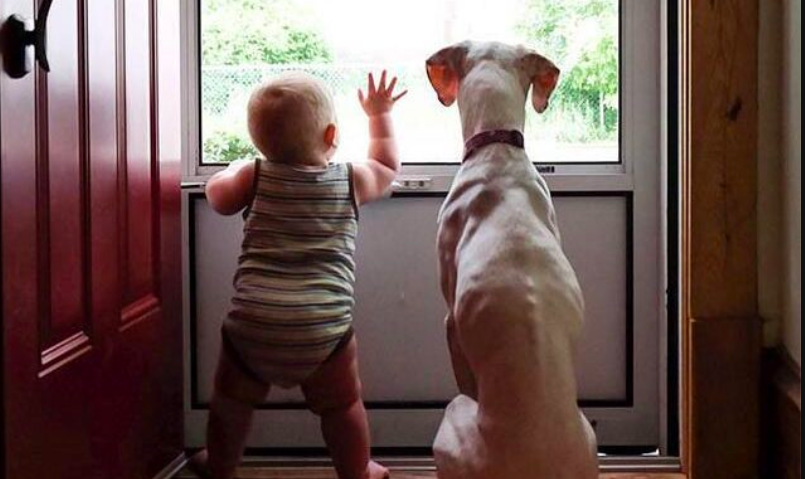 Image: Eagle Headline
Nora's abuse was so bad that she was scared to interact with people altogether. The Spence family finally adopted her and they worked to rehabilitate Nora. However, Nora still didn't really click with anyone except one lucky baby!
18. Owner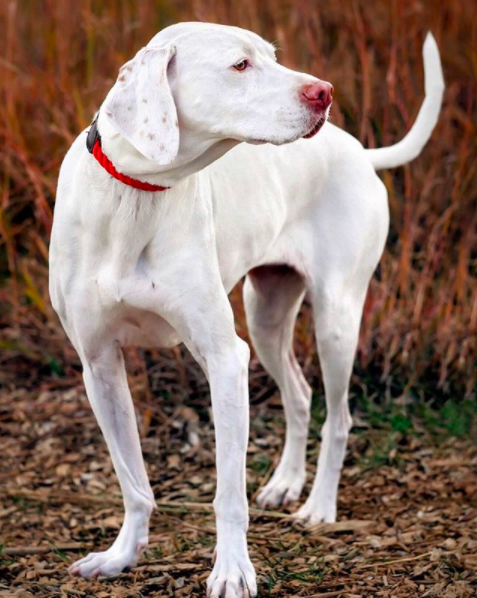 Image: Instagram
"We got our girl Nora, an English Pointer, from a rescue shelter seven years ago prior to having kids," her owner Elizabeth said. "Despite having come from an abusive situation her sweet and gentle nature shone through and we knew with certainty she would be a wonderful family dog when the time came. She absolutely did not disappoint!"
17. Big Hearts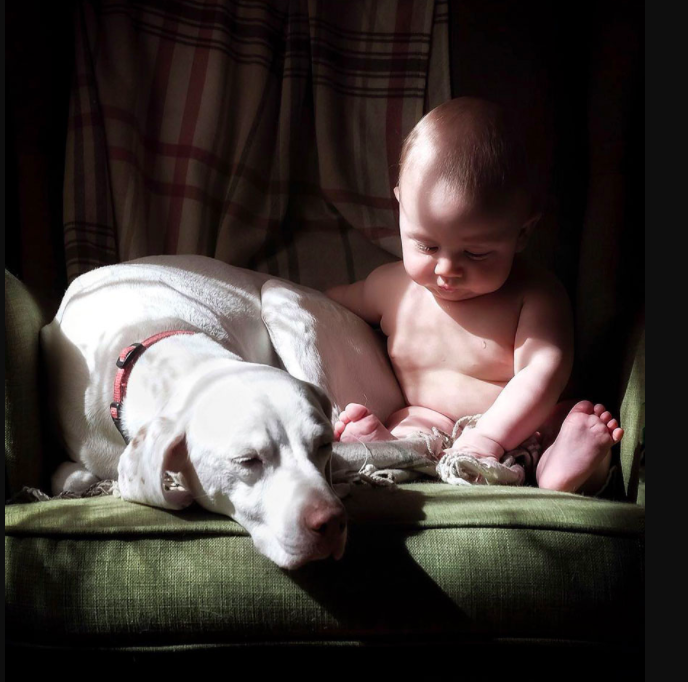 Image: Bored Panda
Elizabeth Spence and her husband happen to have very big hearts and seem to gravitate toward animals that need extra love the most. They have five other rescue pets including both cats and dogs. However, Nora was the only one that developed such an interesting bond.
16. Big Family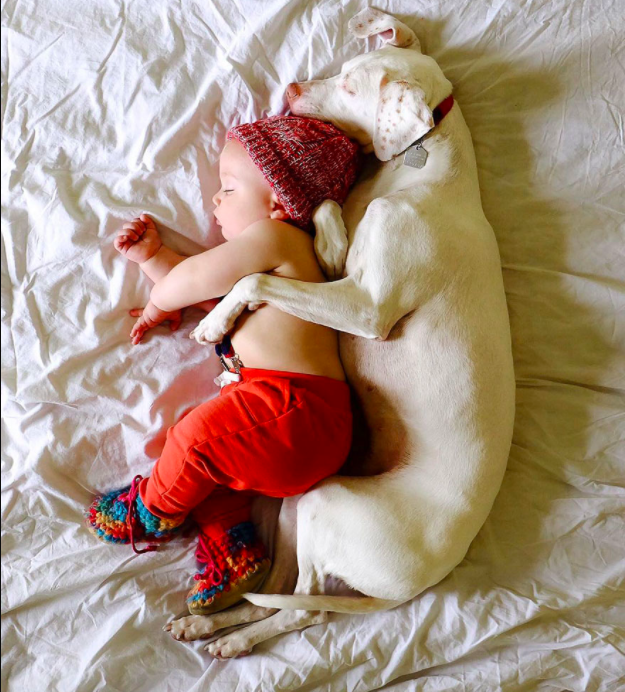 Image: Bored Panda
"At any time of day you're likely to find a pile of kids, cats and/or dogs lying about the house somewhere," Elizabeth Spence told The Dodo. Now with three kids in the picture the family has grown even more and 11-month-old Archie has completely won over Nora.
15. Cuddle Buddies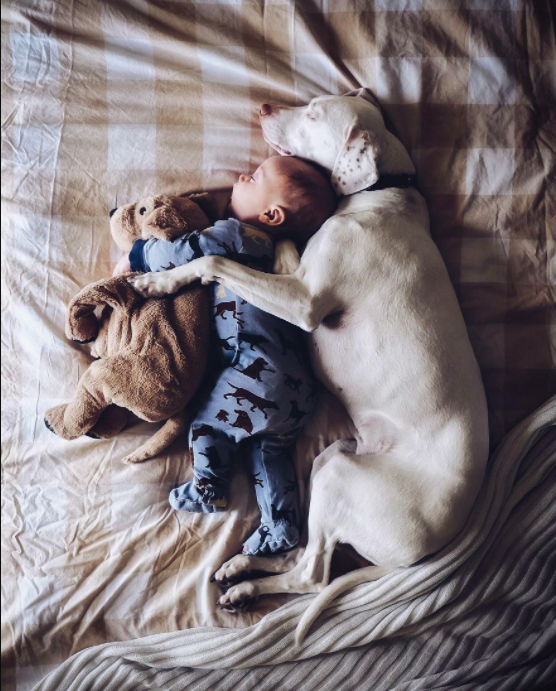 Image: Bored Panda
Little baby Archie and Nora have become best friends and Nora seems to follow him around everywhere. The two are absolutely adorable cuddle buddies and they love having their nap time together. Just check out what Elizabeth had to say about this curious relationship.
14. Archie's Personality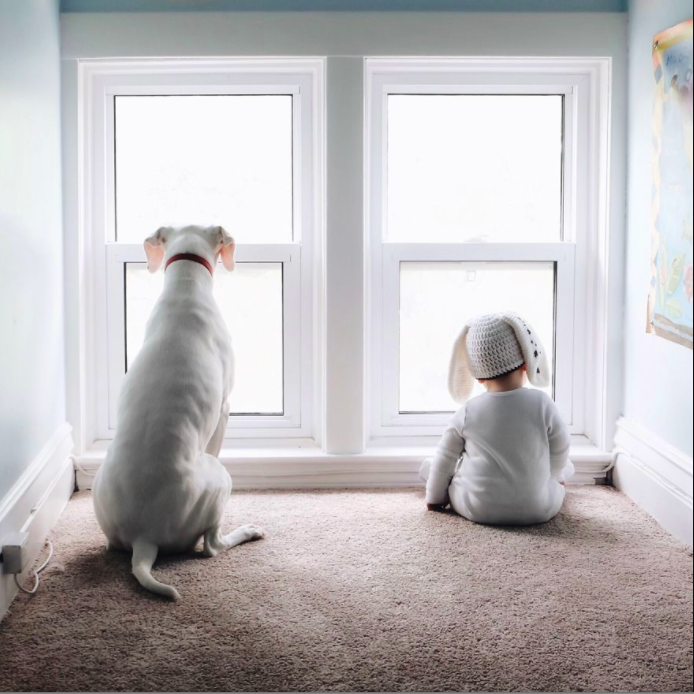 Image: Bored Panda
"Archie is an extremely laid-back, happy, good-natured baby and all the animals seem to really respond to that, particularly Nora," Elizabeth told the Dodo. "She came from an abusive background and is afraid of almost everything. Not Archie, though. She absolutely adores him!"
13. Inseparable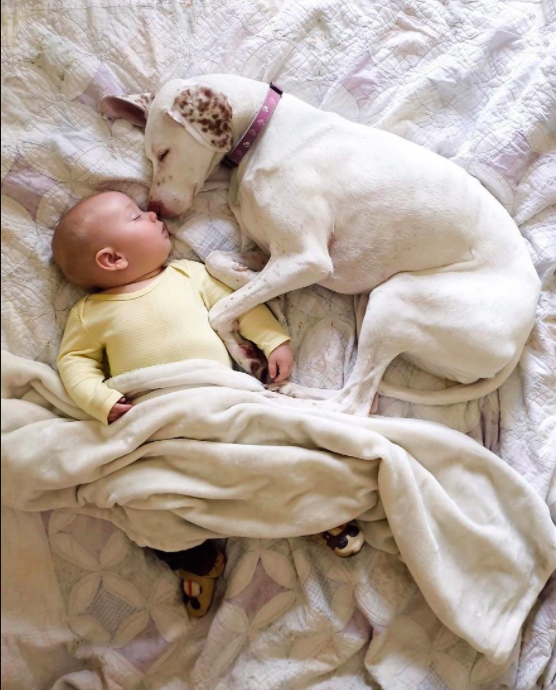 Image: Bored Panda
The duo does everything together and Elizabeth finds it absolutely charming. Archie seems to make Nora feel at peace and Elizabeth is grateful that the dog has found a companion, even if it's in the form of a toddler. You won't believe just how attached Nora is!
12. Bath Time
Image: Bored Panda
"If Archie is having a bath, Nora is lying on the bath mat waiting for him to get out," Spence said. "If I'm nursing him she wants up on my lap, too. If he's going through my cupboards throwing all the dishes on the floor, she'll be there cheering him on."
11. Photography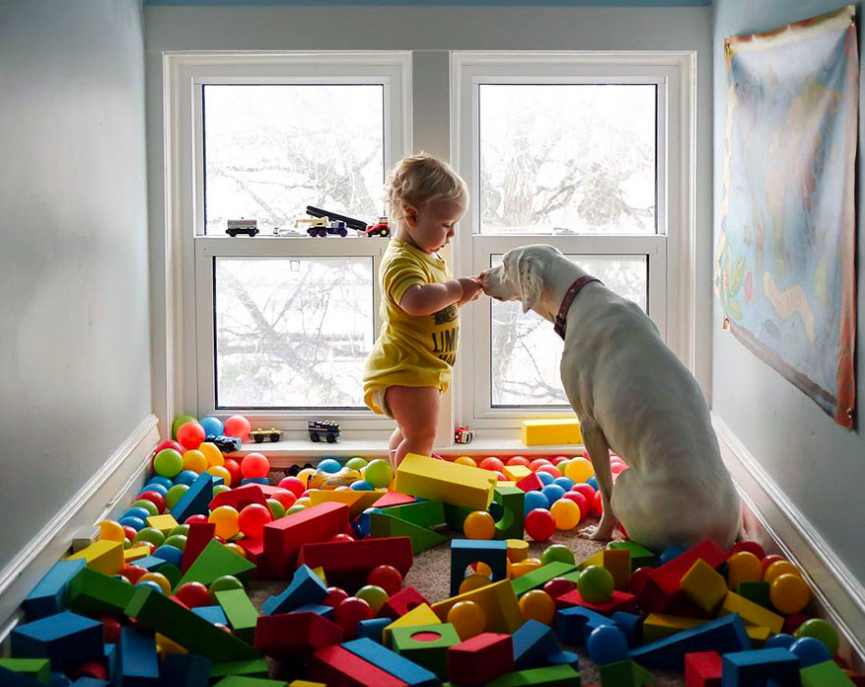 Image: Bored Panda
Since their relationship has evolved into such a special bond, Elizabeth has begun taking some of the most amazing photos of the pair. As you can see they really are always together. They especially love hanging out in the playroom.
10. Social Media Fame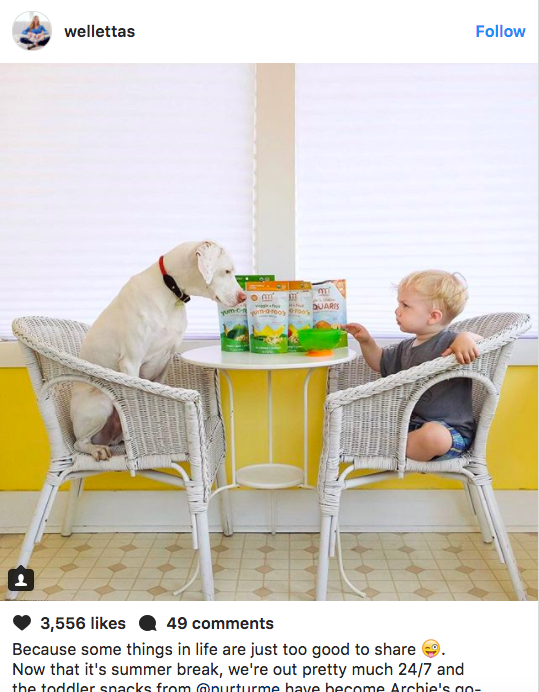 Image: MetroUK
Spence began uploading the precious moments onto her social media account: wellettas. On the account she would post photos of the pair cuddling, playing, and eating together and she quickly gained a fan base!
9. Fan Base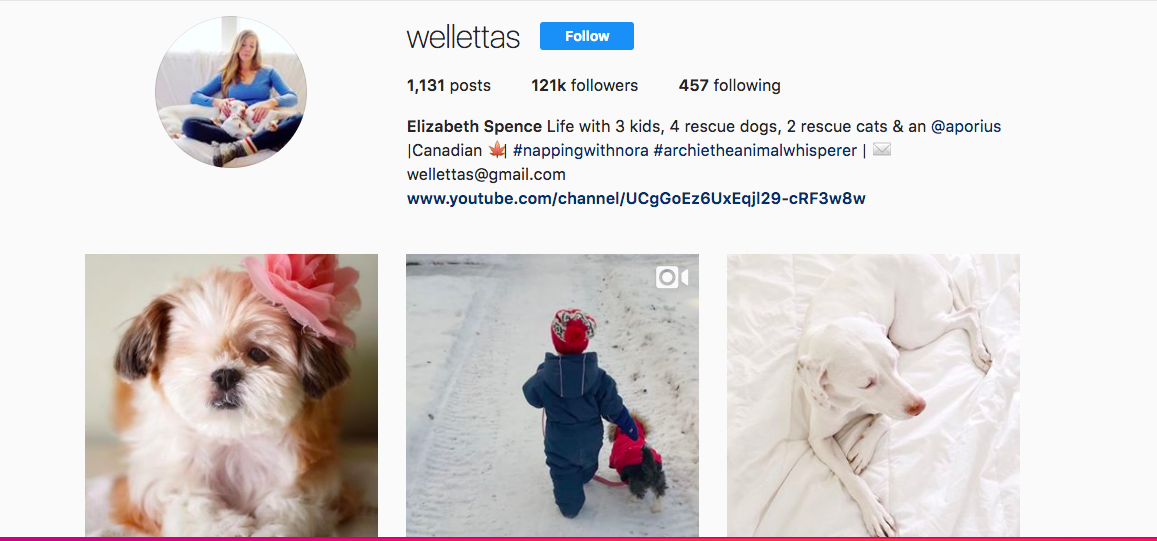 Image: Instagram
The account now currently has 121k followers. The fans adore seeing Nora and Archie cuddling and playing and doing what best friends do. Elizabeth even includes other guest stars into the mix…
8. Siblings & Animals

Image: Instagram
Elizabeth will also upload her other kids onto the social media account with their other rescue pets. Sometimes you'll see Archie bundled up in a cuddle session with two dogs other times you won't know what to expect!
7. Kiddies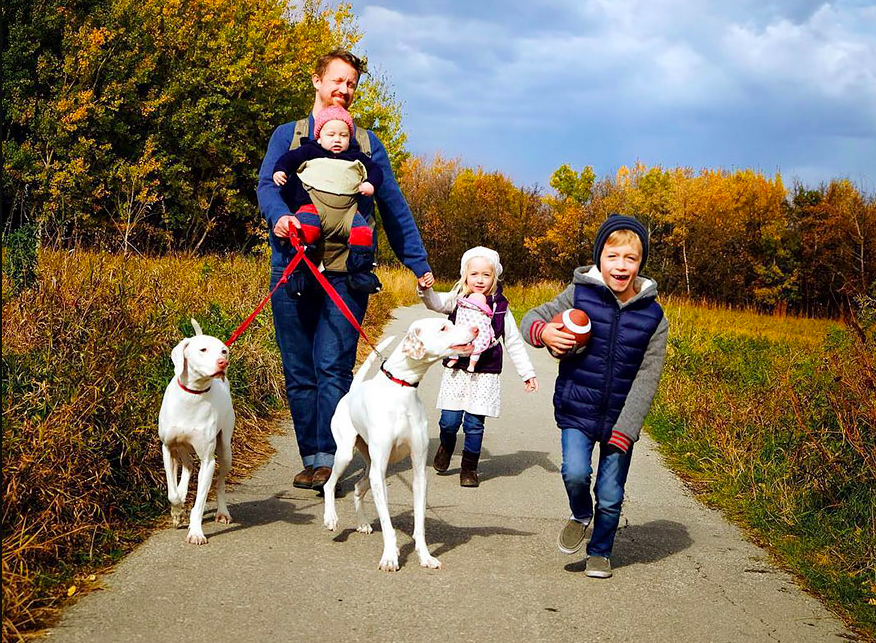 Image: Bored Panda
Wellington and Loretta will also show up in photos playing with the dogs and cats. The kids are absolutely great with the animals and the animals adore the kids. Elizabeth is incredibly happy with her family and has stated so in the most uplifting way.
6. Respect
Image: The Dodo
"We taught the kids from a very young age to respect the dogs and to treat them well, so the dogs trust and love the kids very much and are quite comfortable hanging out with them in any manner," Spence said.
5. Happy Family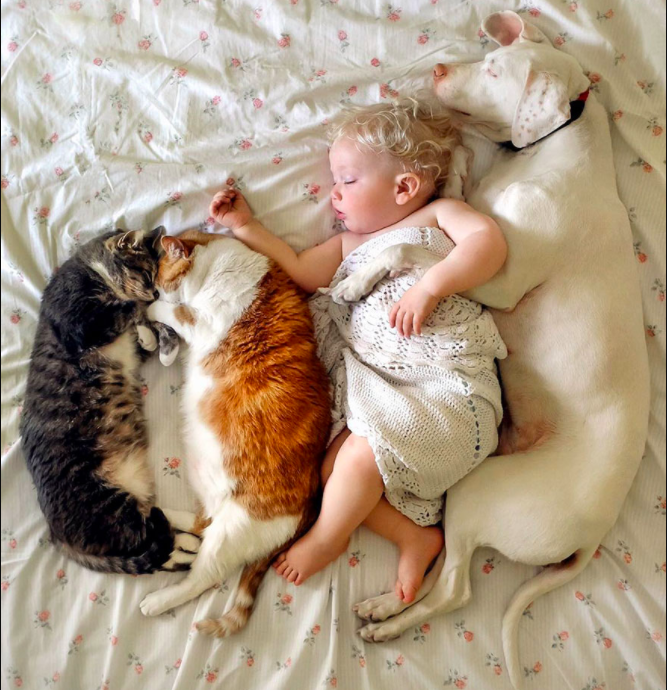 Image: Bored Panda
Elizabeth continues to run the Instagram account and posts some of the best photos ever. Just check out this one where the cats decided to join in on the bonding time. You'll aww at the next couple of photos.
4. Ultimate Cuddle Session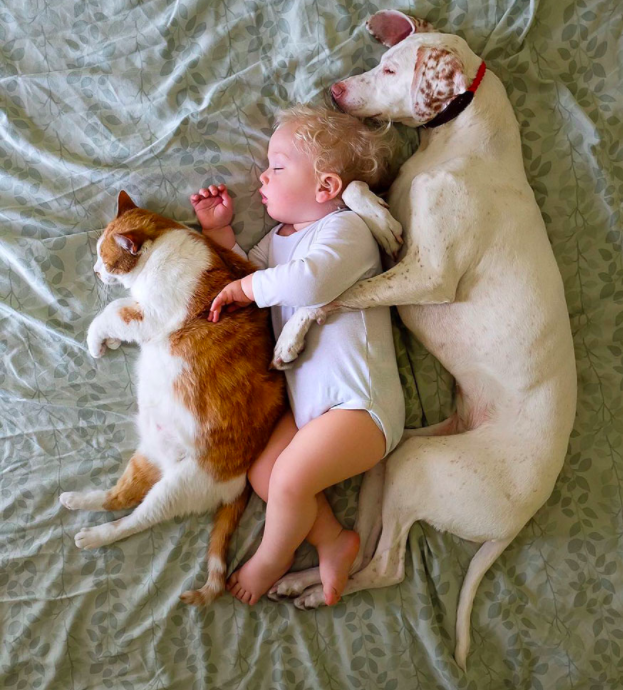 Image: Bored Panda
Just look at the three of them all cuddled up! Have you ever seen three different animals species get along so well? It's enough to have your faith in the world entirely restored but that's not even the end of the cuteness – there's still more.
3. Party Time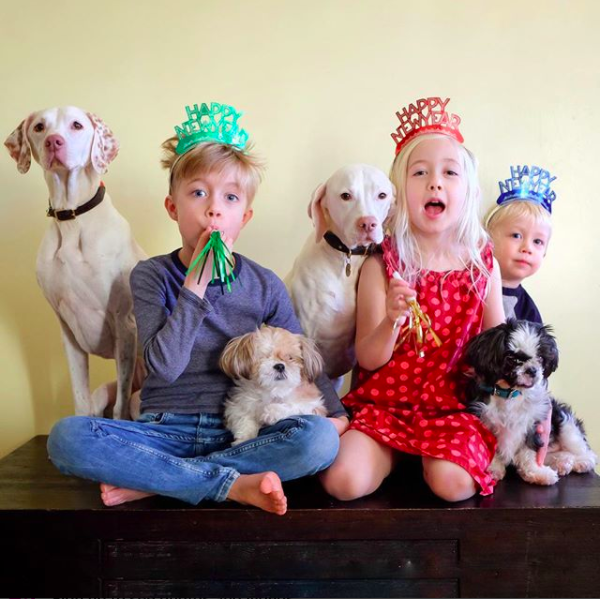 Image: Instagram
Take a look at this precious New Years post from the entire family. Kids and dogs galore all wishing you a Happy New Year. Have you ever seen anything cuter? Well, the next post will definitely blow you away with even more cuteness.
2. Tub Time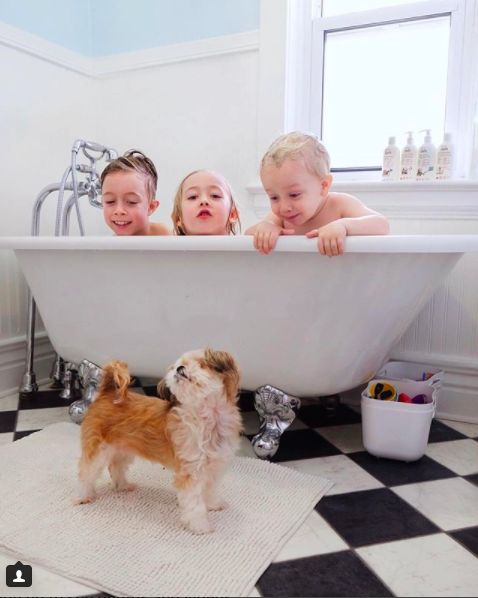 Image: Instagram
Here we have the kiddies all having a fun time in the tub, while their other rescue dog, Daisy, waits for her turn to tub it up! The Spence family is the perfect example of how you can make a huge difference in the life of a rescue dog. All it takes is a little love to change the world for the better.
1. Share The Love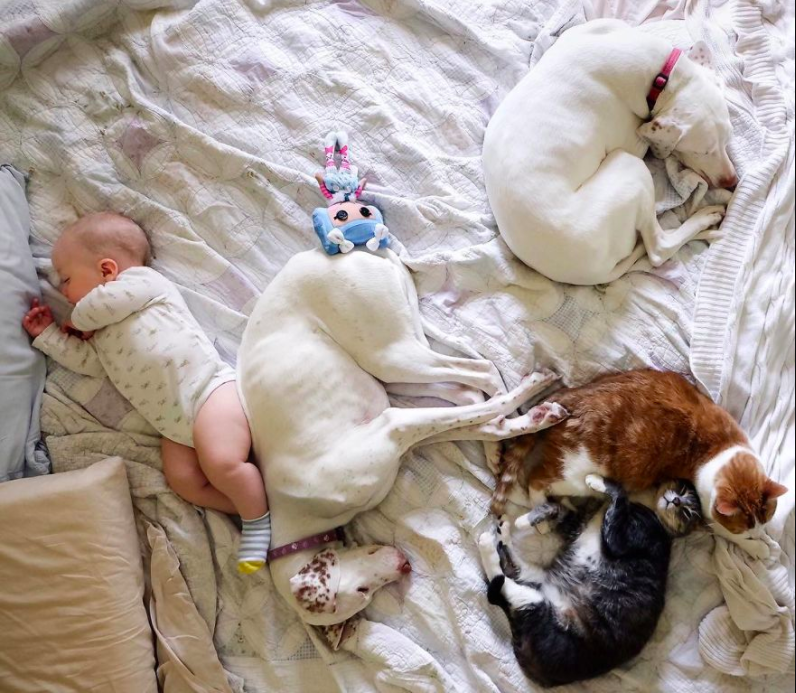 Image: Bored Panda
The Spence family continues to upload their family high jinks onto their social media account in order to inspire others to spread love too! Be sure to share this amazing story with your friends and family. You never know whom you might inspire next!