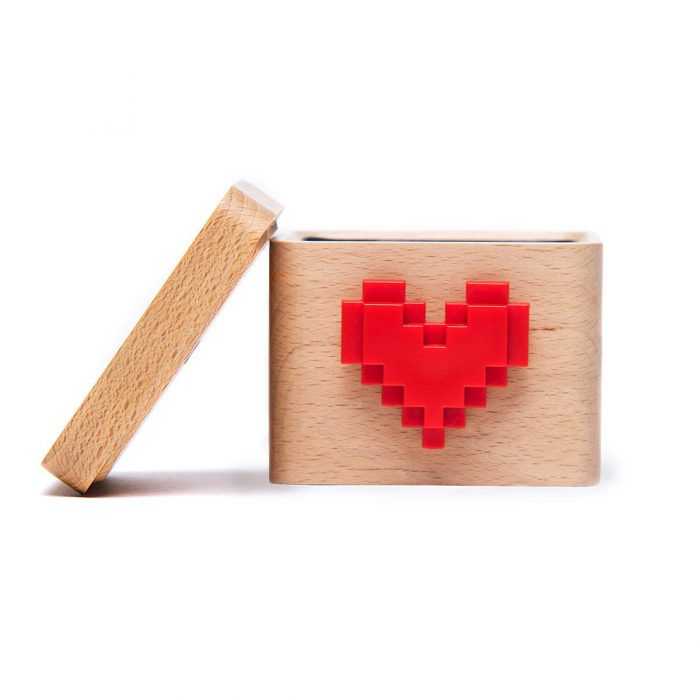 Love notes, those little messages passed between loved ones, have a new modern look in the form of the Lovebox Spinning Heart Messenger. This kinetic box will change the way you send little love notes and it's a sleek decoration when not in use. The Lovebox allows you to send a love note anywhere in the world at any time. Not only is the Lovebox a cool gadget, but it has an emotional origin story. In France, a robotics designer named jean Gregoire  wanted to come up with a way to send a love note to his fiance, Melodie, who was on the other side of the Atlantic. The smartphone has made it possible for us to send emojis to express our love, but Jean wanted something more. Enter Lovebox, the new modern note messenger that lets you stay connected all the time.
Disclosure: This website may earn commissions for purchases made through links in this post.
A stylish French beechwood box measuring 3.54″ L x 3.54″ W x 3.54″ H and featuring a pixel heart on the exterior, Lovebox alerts you to an incoming love note by spinning the heart. Users can send messages through the easy-to-use Lovebox app, and then read them by lifting the lid on the box. A mirror screen inside displays the words of the message. In response, the recipient can spin the heart on the box, which causes a shower of hearts across the sender's screen.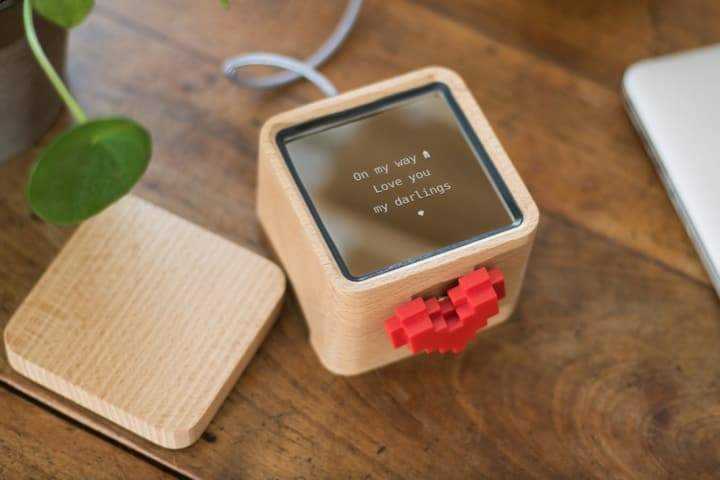 The Lovebox receives written messages up to 168 characters and the app's stickers. You can also draw in the app and send those images as well. It must be connected to your home's WiFI, however, or it won't work. The Lovebox app may be downloaded for free from the iTunes App Store and the Google Play store. If you're not able to access the app on your device, you can use a desktop link to send messages to the Lovebox.
Lovebox is a great gift for partners who may be far apart or simply a way to show extra affection. Just imagine giving it to your mom, a grandparent, child away at college, or anyone else you care about. It can be connected to as many people as you like — they only need to have the "secret code" associated with your Lovebox. Once you give to them, they're able to send you messages, then use the app to share their love. The app can accommodate up to 20 people.
Lovebox is available for $100 on UncommonGoods and Urban Outfitters, as well as the official Lovebox website. You also have the option to buy 2 Loveboxes for $189.99. Personalized engraving is available on the website for $14.99. The Lovebox is available for US, UK, France, and Europe plugs. Each Lovebox ships with a power cable and the appropriate plug.

For the ultimate love message, say it with great deals from Sephora